A year of collaboration: 2020-2021 IBM Developer partnership program
Learn how IBM collaborates with partners on co-hosted webinars to educate external developers about the values and benefits of IBM and partner technologies.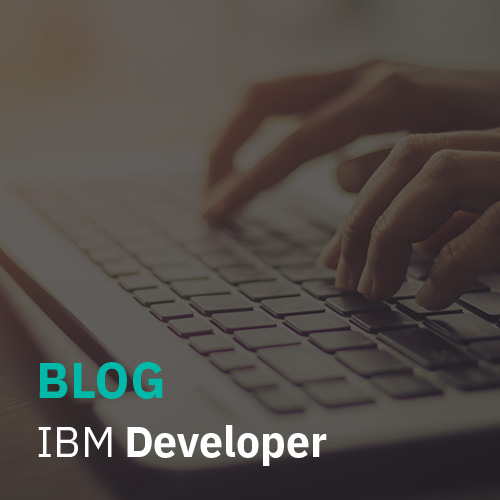 In December 2020, the IBM Developer team decided to launch its first-ever Partner Developer Success Program. The idea for this program is simple: Collaborate with partners on co-hosted webinars to educate external developers about the values and benefits of IBM and partner technologies.
The partners that we decided to collaborate with were either part of the Hybrid Cloud Build Team ecosystem, were global system integrators (GSIs), independent software vendors (ISVs), or part of Red Hat Marketplace. Overall, these are partners that are already deeply rooted in the IBM tech ecosystem, and the goal with this program is to highlight and share technology insights.
Since the program's conception, we have collaborated with more than 10 different partners on 30+ Crowdcast.io webinars, attracting an average of over 200 attendees worldwide. We have also started collaborating with partners in various geographic regions and languages, such as Latin America, Europe, and the Middle East. We have begun live-streaming our sessions across our YouTube, Twitter, and Twitch channels.
One of our program's key benefits is to have our partners featured in IBM's Digital Developer Conference and our annual global conference Think. These conferences provide immense exposure to the developer community and range in various topics such as data and AI, AIOps, and integration and security.
It's incredible to see how much this program has grown in less than one year. Below is a timeline, some highlights, and resources from some of our best sessions from this past year to help you get a deeper insight into IBM Developer and partner collaborations.
IBM Developer and Infosys
Infosys was one of our first partners in this program. IBM Developer Advocates Pooja Mistry and Mangesh Patanker collaborated with leaders Manisha and Balaji SK from Infosys on the following topics and more.
Modernize with containers: Migrate legacy Java applications
Resources:
Building cloud-native applications — 12 factors to cloud success
Resources:
IBM Developer and TCS
TCS has been a wonderful partner this year in the automation and integration space. IBM Developer Advocate Pooja Mistry collaborated with TCS IBM Cloud Pak for Integration consultant Santhosh Ramanathan on a three-part series about all the products within IBM Cloud Pak for Integration.
Resources:
IBM Developer and HCL
IBM Developer Advocates Ross Cruickshank and Ed Shee from IBM UK were able to collaborate with Jeff Bunagan and Daniel Vaughan, cloud architects from HCL, on a session on Kubernetes vs. Cloud Foundry.
Resources:
IBM Developer and Turbonomic and Instana
This was a two-part series on observability with the Instana and Turbonomic platforms. Since the release of this collaboration, both Instana and Turbonomic have been aquired by IBM. Instana Developer Advocate Chris Engelbert and IBM Developer Max Shapiro took on part 1 of the series where they built the foundation of AIOps and importance of Observability.
Part 1: Road to enterprise observability
Resources:
Part 2: Observing application performance
Part 2 was done in collaboration with Eric Wright, Technology Evangelist at Turbonomic, where he did a deep-dive into observing application performance.
Resources:
Both parts 1 and 2 of the Instana and Turbonomic sessions have also been recreated in Spanish by our Latin American Developer Advocates Josefina Casanova (IBM), Julia Leyton (Instana), Carlos Castellanos (Turbonomic), Luis Dasilva (Turbonomic).
Replays:
IBM Developer and Cloudera
Earlier this year, IBM and Cloudera announced that they would partner together to create a new joint offering: Cloudera Data Platform for IBM Cloud Pak for Data, bringing together two leading data platforms. This year IBM Developer Advocate – Steve Martinelli and Fawaz Siddiqi collaborated with David Fowler from Cloudera on integration points between Cloudera Data Platform and IBM Cloud Pak for Data.
Resources:
IBM Developer and DataStax
This collaboration was done by Patrick Callaghan – Partner CTO, DataStax and IBM Software Engineer and Developer Advocate Mark Sturdevant. This was an insightful session on the power of analyzing real time eCommerce Data with Apache Cassandra available on IBM Cloud
Resources:
IBM Developer and Twilio
IBM Developer Advocate Dave Nugent has built a three-part series with Twilio Advocates Arthur Pham and Lizzie Siegle around all things natural language and messaging. Check out their first session, where they collaborated with IBM Developer Advocates from Middle East team Mridul Bhandari and Khalil Faraj.
Easily integrate your Watson Virtual Assistant on WhatsApp with Twilio
Resources:
More resources
There are so many more partner enabled resources available. Digital Developer Conferences are available for free and on demand:
We hope you learned more about the IBM Partner Developer Success Program. Check out this blog to learn more about valuing partner developer advocacy; follow us on Crowdcast.io to stay up to date with more of our partner-driven events; and check out code patterns, learning paths, and tutorials on IBM Developer.